Wow! Last week's blog hop was a hit! Thank you all so much for playing along and linking up so many of your delicious sweets! Now, you're asking yourself "Self, I wonder who got the most clicks?" Well, I can tell you that! Here are the top 5......drum roll please!
Want to play again?

Link up a dessert recipe for sharing (or two or even three!) so we can all drool over them and try them out. Follow the directions below. I'm looking forward to seeing what you come up with!

1. Please share a link back to your actual recipe post, not to your main blog page.

2. Please visit two links and leave a comment on the recipe letting them know I sent you over.
3. Vote for your favorite by clicking 'Like'. I think I got it working this week!
4. Come back next week to find out who got in the top 5!
5. Have fun and just try and refrain from licking your monitor!
6. Feel free to grab my button and post it on the post you linked.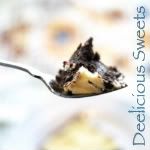 That's it! The party will be over next Tuesday, August 16th. at 11:59 pm. Just link up now!