I hope dad approves!
Father's day was spent in Florida with my Dad. We did the usual - we went to Outback. Isn't it amazing how there is always an Outback around wherever my dad goes? That's me being sarcastic. Don't know if you could tell by the tone of my sentence you just read. Just trying to help you out. My dad loves his Outback. He says "You always know you're going to get a good steak at Outback." Anywho, a week before we left my mom asked me to make my dad some blueberry muffins for his breakfast. She just started working full time and my dad is like a lost puppy over there all alone in that big house with no one to feed him.
A little stingy with the blueberries, aren't I? Ooops!
At lunch time, he loads up Stinker (their dog) and he takes her to Arby's or Wendy's and he will buy her a sandwich. Thankfully my mom arrives back home in time to make him dinner. We try to take care of my dad as much as we can. We can't tell him that though because he doesn't like for anyone to go out of their way.
So, that whole bit about our taking care of him will be our little secret, okay?
The muffin fairy arrived at his doorstep today and delivered his blueberry muffin's.
To Die for Blueberry Muffins
- a little dramatic with the title aren't we?
Yields 8 servings
- annoying right? Who makes a muffin recipe that yields only 8?
For the Muffins
1 1/2 cups all-purpose flour
3/4 cup white sugar
1/2 teaspoon salt
2 teaspoons baking powder
1/3 cup vegetable oil
1 egg
1/3 cup milk
1 cup fresh blueberries - I used frozen
For the Crumb Topping
1/2 cup brown sugar
1/3 cup all-purpose flour
1/4 cup butter, cubed
1 1/2 teaspoons ground cinnamon
For the Muffins
Preheat oven to 400 degrees F (200 degrees C). Grease muffin cups or line with muffin liners.
Combine 1 1/2 cups flour, 3/4 cup sugar, salt and baking powder. Place vegetable oil into a 1 cup measuring cup; add the egg and enough milk to fill the cup. Mix this with flour mixture. Fold in blueberries. Fill muffin cups right to the top, and sprinkle with crumb topping mixture.
For the Crumb Topping
Mix together 1/2 cup brown sugar, 1/3 cup flour, 1/4 cup butter, and 1 1/2 teaspoons cinnamon. Mix with fork (I used my food processor), and sprinkle over muffins before baking.
Bake for 20 to 25 minutes in the preheated oven, or until done.
Adapted from Allrecipes
Even though serving of 8 was particularly annoying they were totally worth it! I just about died when I tasted it. Not really, almost.....I made my own batch, I didn't steal my dad's.....
I had way to much fun photographing these muffins! So much fun, I forgot to take the kids to piano....eeek!
I linked this post up to: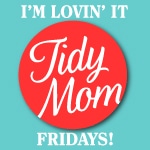 Also linked up to:
I'm very link happy with this post! These muffins are still making me smile :)
~ Enjoy!